When I first heard about the Rapha Festive Five hundred, in 2010 I didn't know what a "Rapha" was. I didn't know who Jeremy Powers or Katie Compton were. I hadn't met Tim Johnson, and had not raced against Ben Berden, Jamie Driscoll, or Steve Tilford. All I knew was that it sounded like something that was completely beyond my ability level. I had at that point completed just twelve Cat4 (i.e., 30 min) cyclocross races. I had never ridden over 50 miles at one time, and 500km was probably more miles than I had ever ridden in a month much less a week. But there was something about the challenge that got stuck in my craw. I wasn't the kind of cyclist who could ride 500km between Christmas Eve and New Years Eve, but someday maybe I could be that kind of cyclist.
Every year since, when December rolled around, I thought about the challenge. There was always some obstacle that prevented me from attempting it. Sometimes it was weather, sometimes it was illness, sometimes it was fear. It took four more years and more than 10,000 miles before I became the kind of cyclist who thought he could actually pull it off. In December of 2014 I started off strong with a 60 mile ride on Christmas Day (I erroneously thought the challenge ran from Christmas to New Years and lost a day). I then came down with a bad sinus infection and spent two weeks off the bike. It was disappointing to say the least.
This year I felt like I was in an even better place. I had ridden more than 5,200 miles (up from 4,000 miles in 2014), and completed a number of long endurance races. When I set out on Christmas Eve day to try and accomplish this goal, I hoped I could be the kind of cyclist to brave the elements and get his badge.
I'm proud to say that tonight I finished the Rapha Festive Five Hundred with room to spare.
Merry Christmas Eve
12/24/2015
36
℉
I started out strong with 100km on Christmas Eve. The wind was blowing in from the west at 15mph so I cut out in the early afternoon and headed south west. I found some new roads that I had not explored in the last three years of living in the suburbs, breaking a psychological barrier and crossing south of I-90 for the first time before looping North and returning through the historic Woodstock Square finding the spot where Bill Murray stepped into a puddle over and over again in Groundhog's Day. It was going to be that kind of week. 63.2 miles, 3:36:25, 1,496ft. Total = 101.7km
Christmas with Steve Tilford
12/25/2015
37
℉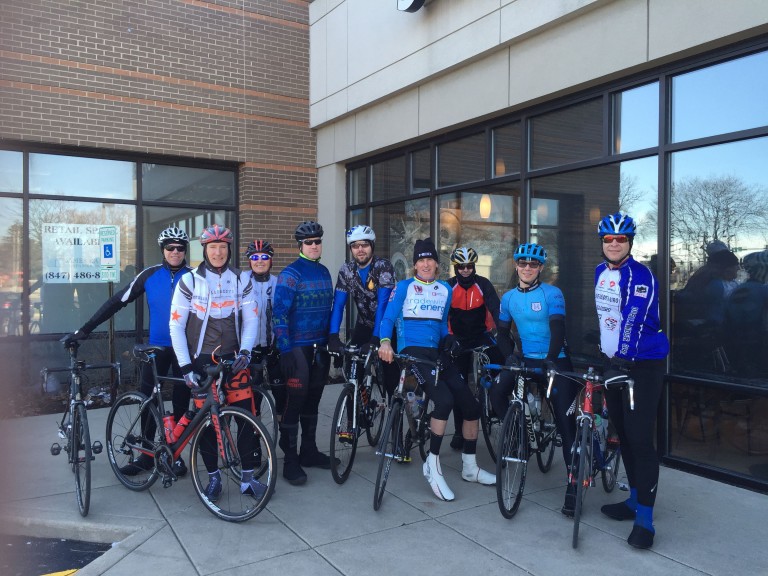 When I got home, Morleigh told me that she had been reading
Steve Tilford's blog
, and he had announced he would be in Chicago visiting family and would be hosting a 2-3hr ride. I wasn't sure how I would feel in the morning, having just put in a hard metric century, but when I woke up on Christmas Day I felt pretty good, and immediately started to get ready for the ride. I drove into Mount Prospect, arrived with enough time to finish gearing up, and then we headed east towards Evanston. It took us about an hour before we got to roads I recognized, but I knew the way down Church into Evanston very well from years of riding with the Chicago Cycling Club. We met up with some additional riders in Evanston, and then headed down Chicago to the Lake Shore Path. We were riding mostly in non-rotating pace line, and taking turns hanging out chatting with Steve. I got my turn on the path, and started talking about the
Chequamegon Fat Tire Festival
as we had both raced it in 2014. We then turned to politics and gun control, and by that time we had made it to Navy Pier and were ready to turn around. The wind was from the Northeast off the lake so we ended up single file crawling back North until we could get shelter in the city, and pushed far enough west for the wind to be in our face again. Steve spent most of the ride on the front pulling, and most of his time pulling chatting away. It was an impressive feat, and gave a glimpse of how strong he is. 56.6 miles, 3:17:39, 446ft. Total = 191.7km
Wind from the north, I ride north
12/27/2015 -
32
℉
I took a rest day on the 26th, and then started up again on Sunday. The wind was blowing pretty strong from the NNE, so I figured it would be a good day to take the Prairie Path north to Wisconsin. Round trip it was only 54 miles to the border. I knew I wanted to get at least 65 miles in, to get get back on track after taking a day off, so I set my sights on another psychological barrier, Lake Geneva. It was going to be a long 35 miles getting there, but I hoped with the tail wind it would be short work getting home. The highlight of the ride was seeing a shiny new gift card on the shoulder of the road which appeared to be undamaged. I spent some time wondering how much money it had on it, and what the threshold was for tracking down the owner. Maybe it was thousands of dollars, or maybe it had been completely spent. Despite having a tail wind, It wasn't short work getting home. The wet crushed limestone section of the path took it's toll, and the wind had shifted more to the east. By the time I got to McHenry I was pretty much spent, and I limped the rest of the way home. I made it back from Lake Geneva 15 minutes faster than it took me to get there, but it didn't feel like it. When I got home I immediately looked up the balance on the found gift card. Windfall for the ride = $0.85. 73.1miles, 4:17:14, 2,110ft. Total = 309km
Free Rides while you wait: CPR Cell Phone Repair Huntley
12/29/2015 -
27
℉
I lost another day to a wet and heavy snowfall on Monday. I did ride my mountain bike up to the Walgreens to pick up milk, which only reinforced the decision to not ride. It was heavy, wet, slipper, and would have been a struggle to get any miles in at all. Much better to rest and wait for the roads to clear, than to waste two hours going 12 miles. Tuesday morning I got a call from the Cell Phone repair place saying my screen had come in. I used that as an opportunity to get some miles in, dropping my phone of on the way west (wind was from the west again), and looping back to pick it up a few hours of riding later. I'm not going to lie. It was really hard to get motivated and get out the door. I puttered around for almost 2 hrs tinkering with my clothing, nutrition, Garmin route, and pulling a piece of metal and re-sealing a tubeless tire. I found an interesting feature on the map while exploring a possible route on Garmin Connect. Just south of the interstate I found a small landing strip which was lined on both sides by houses with very large garages. It's a community of pilots with their own personal airport. I added a loop around the airfield to my Course. The ride was pretty smooth and uneventful. I had to make some wardrobe adjustments at mile 20 and switched to dry warm gloves at mile 45, but made it back to the CPR Huntley after they finished my phone and well before close. I ended up making some extra loops in my sub-division to push the ride distance over 100km. 62.6miles, 3:30:32, 1,240ft. Total = 411km.
The kind of cyclist who could...
12/30/2015 -
27
℉
Originally I had thought I would ride on New Years Eve. We had plans to take my niece and nephew to see the new Star Wars up in Wisconsin, and I thought that would be a perfect capstone to my festive 500, riding either part of the way and having Morleigh pick me up, or riding the whole way and meeting her there. But with only 90km to go, and a quiet day around the office, I instead decided to try to get another 100km ride in, and finish the challenge off a day early and save the logistical headache of arriving in Janesville sweaty and cold. The wind was again from the west, strong at 15-20mph, so I headed northwest, trying to reverse most of the loop I had ridden on Christmas Eve. I skipped the headaches of making my way north through Crystal Lake and Woodstock during rush hour, and headed west on Miller to Haligus, where I connected with the Lundhal route to Deerpath Rd. I skipped the big climb, and made my way west on River to Hwy 23, and took that over the smaller pass to Kishwaukee Valley Rd. My legs were pretty shot by this point, after 30 miles into a steady 10mph wind, so the return trip was not as fast as I would have liked. I had to stop at mile 37 and make some more wardrobe adjustments. I lingered a bit too long because when I texted Morleigh to let her know I was okay and about to get rolling again, she texted back letting me know that she was already getting dressed and coming to get me. I didn't need a sag quite yet, and sailed mostly downwind for another 25 miles. I stopped right before I got home at the grocery store to pick up some broccoli for supper, and she had hot chocolate with big marshmallows waiting for me when I walked in the door. A very nice treat to end an epic week of riding. 62.0miles, 3:37:01, 1,322ft, Total = 511km.
https://www.strava.com/challenges/rapha-festive-500-2015